Jams & Jelly
Online Store Coming Soon!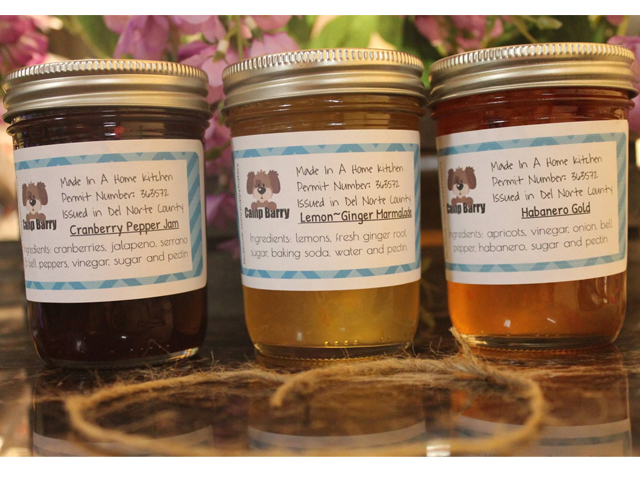 Camp Barry has a Class B CFO Permit issued from Del Norte County Health Department. Which means the health department has inspected our kitchen and does regular inspections just like they would any restaurant or deli.  
We make small batches of HOMEMADE jams and jellies to sell in our community and now online!
You can find Kayla every Wednesday from 9-2 (June thru October) at the Downtown Farmers Market in Crescent City CA. We also attend other community events (as our schedules allow) such as First Friday, Tractor Supply Company Adoption/Farmers Market, Dogs of Del Norte County second Saturday Adoption event, any Humane Society Adoption/Fill the Van event.   .
These sales are what supports our fosters! 
Breakdown of how our funds are used:
30% is donated to the Humane Society of Del Norte
50% is used to support the day to day needs of our fosters; food, potty pads, toys, paper towels, bleach...
15% is used to purchase supplies for more jams and jellies
5% is used for labels, ink and misc supplies.
That means $5.60 from each jar sold goes directly to the animals! We are able to achieve these numbers because many of our supporters and followers donate fresh apples, plums, apricots, pears and rhubarb from their trees/plants and we go pick our own blackberries and blueberries during the season. Every little savings adds up!